Updates
FlowAlgo Radar – Available now.
June 8, 2020

Radar allows you to see the cumulative institutional dark pool and equity block activity for any symbol on a per day basis for up to the last 120 days. By weighing this day-to-day activity against 30-day average volumes, we're able to uncover periods of elevated institutional activity.
Chat – Code of Conduct Added.
June 6, 2020
New chat Code of Conduct has been added. If you are a participant in the chat room, please review it here.
Options Export Update
May 1, 2020
The Options Export has been updated to include search options for Minimum Order Premium, Open Interest Maximum, and  Sector.  Orders that exceed Open Interest can also now be filtered out using the new Filter Orders Exceeding OI filter.
Here's an example showing orders in the technology sector with an open interest under 1,000.
Equity Export Update
May 1, 2020
The Equity Export has been updated to include search options for Minimum Shares and Minimum Spot Price. Signature Orders for SPY can also now be filtered out and totaled quickly with the addition of the Filter Signature Prints option providing you a total count, total volume, and cumulative notional value.
Try it now here by clicking Filter Signature Prints. Compatible for any single day selection.
Dark Pool Insights – New SPY Signature Added – 251
February 23, 2020
A new SPY signature share size has been added. The platform will now highlight SPY share blocks beginning with 251. Since these blocks are half the size of a normal 501/502/503/504 block, we recommend counting them as half of a normal sized signature share order.
FlowAlgo Export v1.1: Symbol search and unusual filters added.
December 13, 2019
Symbol and multi-symbol search support has been added to the Option and Equity Exporters.
Unusual order filters have been added to the Option Exporter.
Unusual orders are now highlighted in Option Exporter.
Unusual column has been added to option data exports.
The date picker can now be enabled or disabled in Options and Equity Exporters.
Chat: Chart sharing support added for TrendSpider
November 14, 2019
Alpha Ai: Improvements
November 12, 2019
Improvements to Alpha Ai have been rolled out.
While we can't share exactly what has changed, the sensitivity level for alerts has been raised and weighing on several factors has been modified to further improve accuracy based on data that we have collected dating back to our initial August 2018 release. Earnings logic has also been added to avoid signals near a confirmed earnings release.
Chat: User Blocking
November 1, 2019
Levels: Date support added to FlowAlgo Levels.
August 12, 2019
Entirely new perspectives. Coming in v3.
June 12, 2019
Sneak peek of a fiery new feature coming your way.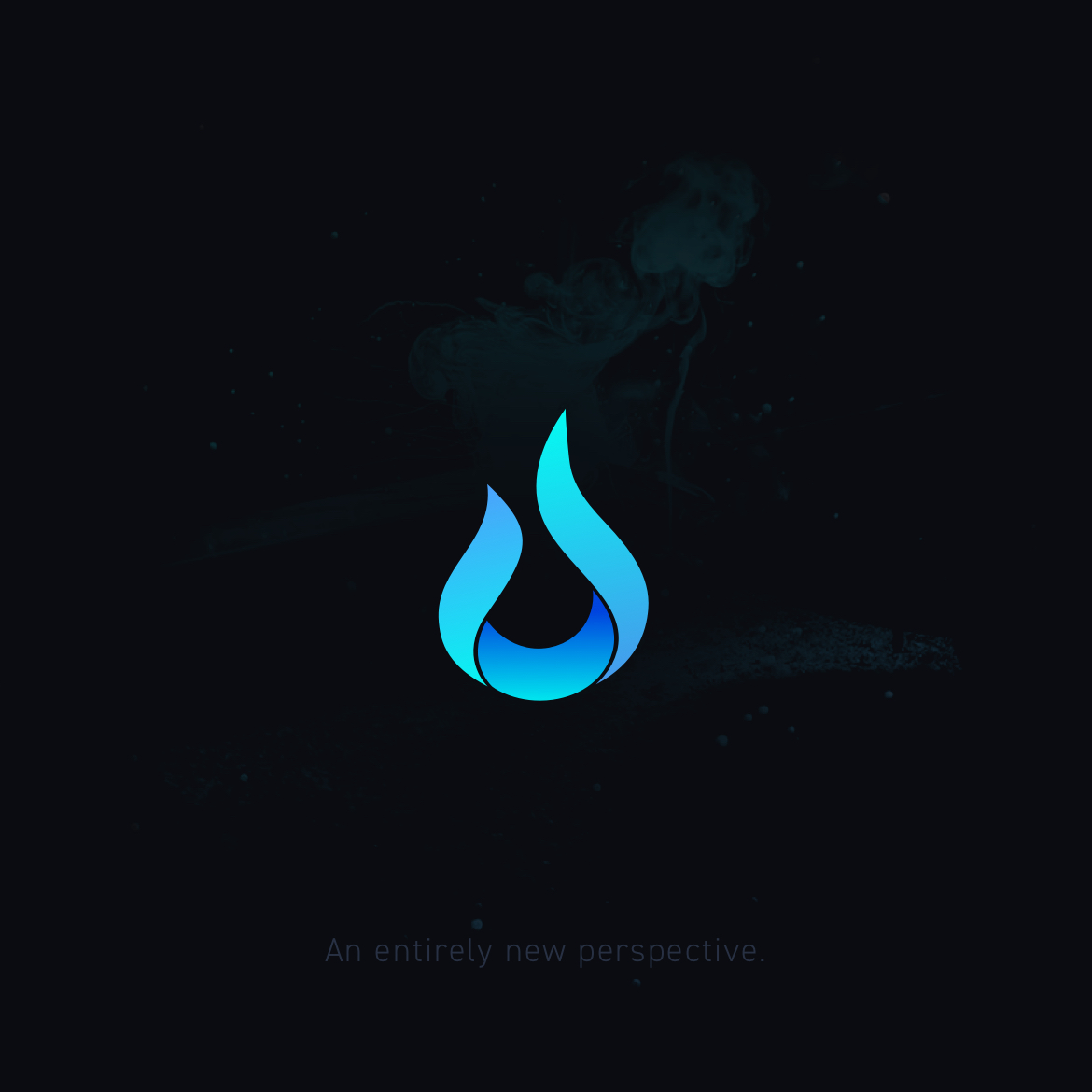 Version 3: Human meets Machine. Coming this Fall.
May 25, 2019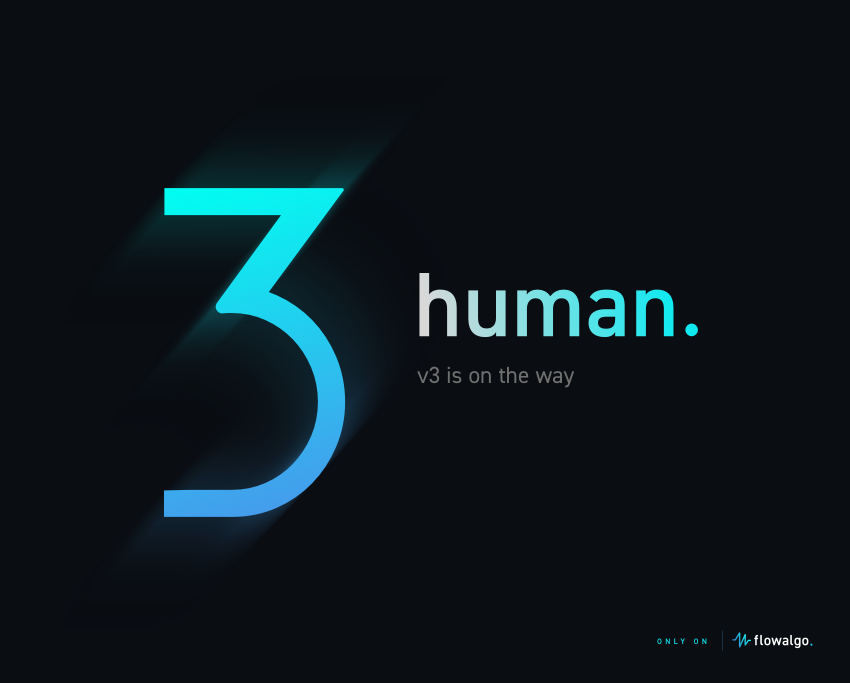 Dark Pool Insights mobile compatibility.
May 25, 2019
Dark Pool Insights is now supported on mobile devices.
FlowAlgo Learn
May 24, 2019
Coming soon. Track our progress here:
https://app.flowalgo.com/learn

Introducing, The Golden Sweep.
December 31, 2018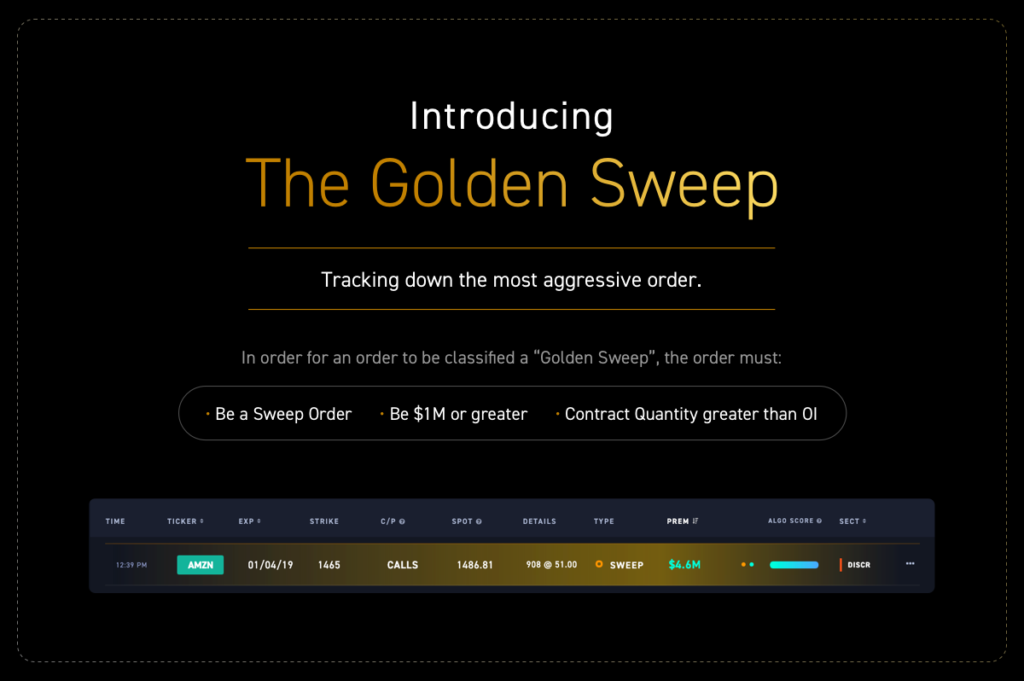 Version 2.1 is coming in early 2019.
December 28, 2018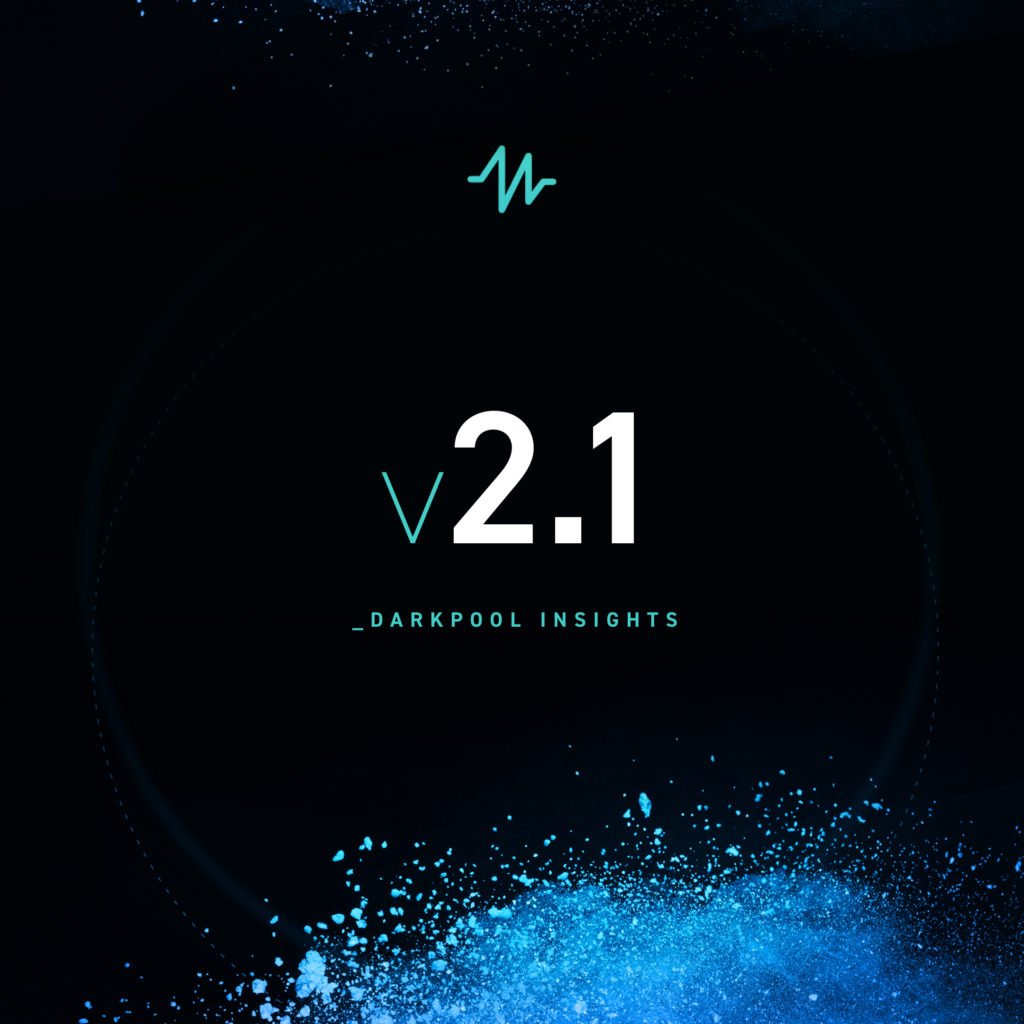 FlowAlgo v2.1 is coming in early 2019. Soon, FlowAlgo will be able to show you exactly when and where the dark pool is buying the 4 major market index ETF's. This update will also give you an improved perspective on institutional equity blocks as they come in.
All-new Smart Filters. Now available!
August 24, 2018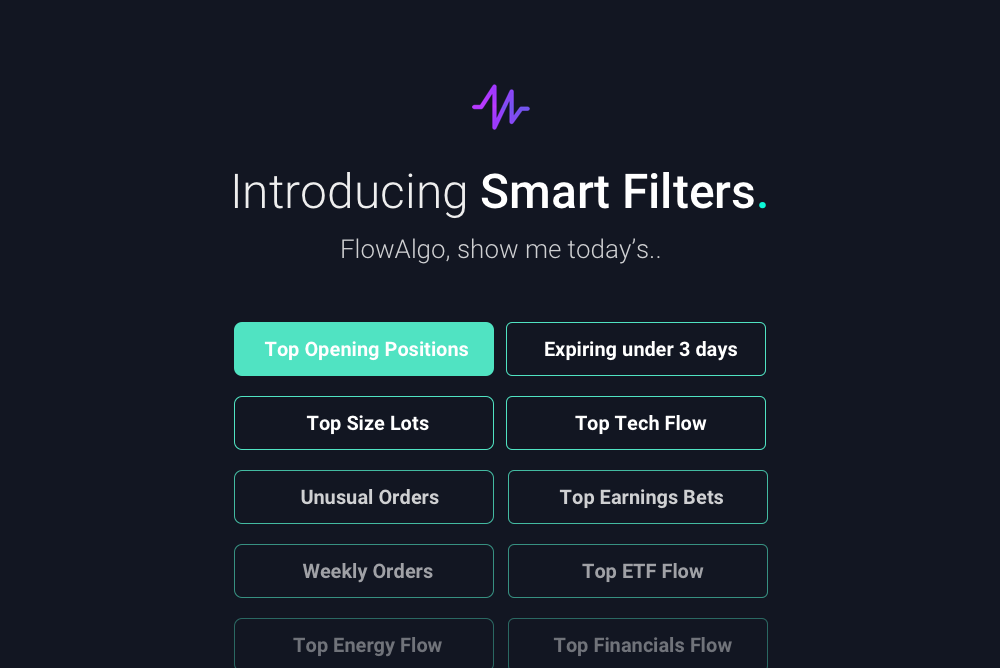 Alpha AI is on it's way.
August 12, 2018
Position long? Short? Hedge? A first of it's kind.
FlowAlgo Alpha Ai is coming this September.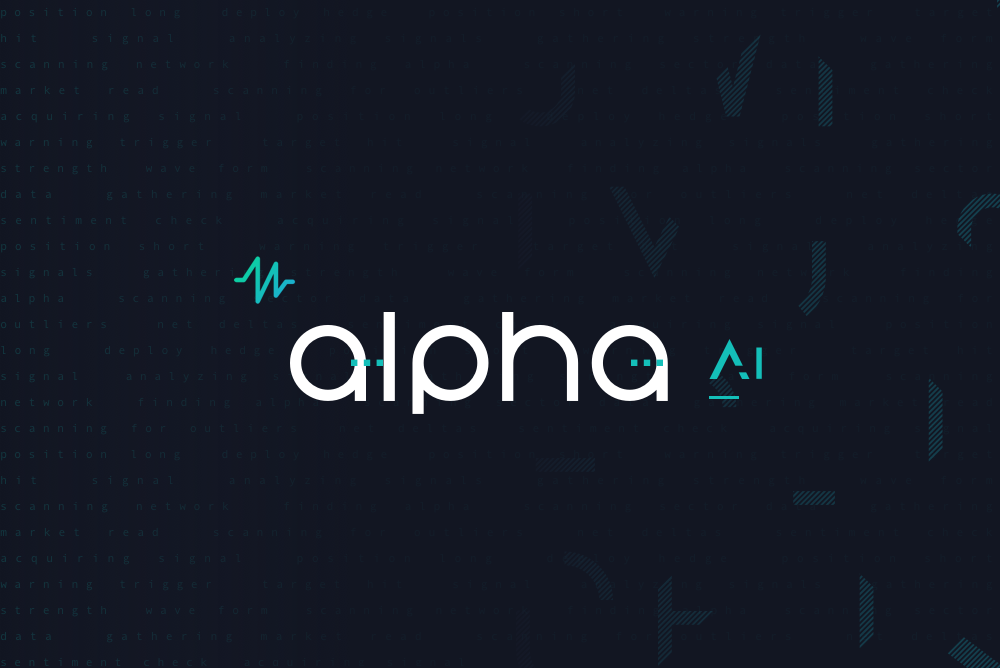 Three years in the making, Alpha AI scans and analyzes over 180 data points to generate highly accurate signals.
Sector Data
January 9, 2018
Option flow data from Jan 1st, 2018 forward will now include sortable sector data.
This feature is currently being expanded. A new widget will be made available on the realtime dashboard very soon.
Unusual Order Flow Highlighting
January 8, 2018
FlowAlgo will now do the unusual flow digging for you.
Option flow orders that are less than 35 days out with an out-of-the-money strike over 7.5% from the current spot price will now be highlighted purple.
Example: https://app.flowalgo.com/historical-flow/?tickers=alny
Bug Resolved: In-the-money puts were incorrectly showing as unusual. This has been fixed.
Bitcoin – BTC.X
December 26, 2017
FlowAlgo will now track large or unusual bitcoin option orders.
Leveraged ETF's
December 26, 2017
Equity Block Sorting (Quantity)
December 24, 2017
Equity block orders can now be sorted by size.
FlowAlgo – Version 2
November 7, 2017
An entirely new and improved version of FlowAlgo is in development and coming very soon. Most updates have been put on hold for the current version and are all being batched into the new version. Thank you for all your suggestions and feedback. We're working on making it all a reality.
FlowAlgo Levels – Platform Addition
September 25, 2017
FlowAlgo Levels uses historical block trade and dark pool transaction data to identify levels of support and resistance for any equity. The strength of each level is calculated based on the total volume transacted at each price level. The higher the volume, the greater it's strength.
Dashboard – Sentiment Indicators when Filtering
September 18, 2017
When you filter the flow on your dashboard to one or more tickers, the sentiment widgets will now update for what is being displayed. Example: If you filter to AAPL, the dashboard will now calculate the total calls, puts, p:c ratio, and current flow sentiment for just AAPL.
Historical Search – Minimum Order Premium Filter Added
September 18, 2017
You can now search historical order flow by minimum order size/premium.
Mobile Compatibility Added
September 11, 2017
FlowAlgo is now mobile compatible and accessible from any browser on your smart phone.
New Feature – Top Open Interest Change
September 8, 2017
We have released a new feature for tracking top open interest changes which will be updated before market open daily.
Order Alerts Bug Fixed
September 8, 2017
We released a new update to the alerts system which should resolve the bug we were experiencing with some orders being read out twice and some not displaying without reloading the page.
New Order Flow Indicator – Order Contract Quantity is Greater than Open Interest
September 8, 2017
Orders with a contract quantity greater than the open interest are now indicated by a green dot to the right of the order premium.
New Order Flow Indicator – Daily Volume is Greater than Open Interest
September 8, 2017
Option contracts that have a daily volume greater than open interest are now indicated by an orange dot to the right of the order premium.
Chat Updates: Send Message on Enter, Notification Sound, Reply to Members
September 8, 2017
You can now send chat messages by simply pressing enter.
A subtle notification sound now alerts you as new chat messages come in.
A "Reply" link was added below each chat message so you no longer have to type out usernames to direct a message at someone.
Dark Pool Print Highlighting
September 7, 2017
Charts are not realtime and may be delayed 10-15 minutes. Powered by TradingView.